Have a Safe and Blessed Memorial Day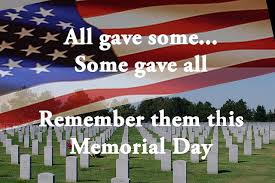 Memorial Day is a United States Federal Holiday that is observed on the last Monday of May (observed in 2012 on May 26). It was formerly known as Decoration Day. This holiday commemorates U.S. men and women who have died in military service to their country. It began first to honor Union soldiers who died during the American Civil War. After World War I, it was expanded to include those who died in any war or military action. One of the longest standing traditions is the running of the Indianapolis 500, which has been held in conjunction with Memorial Day since 1911. Many also traditionally view it as the beginning of summer, since many schools are dismissed around Memorial Day.
Another tradition is to fly the U.S. flag at half-staff from dawn until noon local time.
The official birthplace of Memorial Day is Waterloo, New York. The village was credited with being the birthplace because it observed the day on May 5, 1866, and each year thereafter, and because it is likely that the friendship of General John Murray, a distinguished citizen of Waterloo, and General John A. Logan, who led the call for the day to be observed each year and helped spread the event nationwide, was a key factor in its growth.